For purchases of qualifying SONOR instruments listed below
between SEPTEMBER 1, 2018 thru FEBRUARY 28, 2019.
For a limited time, receive a FREE Primary FSC bass bar and expand your ensemble. With the purchase of any two Primary FSC Bass Bars, you'll receive a complementary bar (bar must be of equal or lesser value of the two being purchased).
This special offer includes the most popular Primary Line FSC Pao Rosa wood sub-contra (C, D, E),
contra (F, F#, G, A, Bb, B), and bass bar (c-c1) notes, plus tenor-alto chime bars (c1-c3).
Example – purchase KSP100X C, KSP60XF and get a FREE KSP60X G
To purchase Sonor Orff instruments, including the Primary FSC Bass Bars, contact your local Sonor Orff dealer.
For assistance with this form or with locating a dealer near you, please contact us at SonorOrff.USA@khsmusic.com.
CONSUMER REDEMPTION INSTRUCTIONS
1. Purchase qualifying SONOR Orff instruments from participating retailers between Sep 1, 2018 – Feb 28, 2019
2. Fill in the information form below completely.
3. If redeeming your FREE Bass Bar online at academicalliance.com/OrffRedemption, please upload a JPG, GIF, PNG or PDF of your original purchase receipt. All submissions through the website must be made no later than Mar 31, 2019.
4. If mailing in your FREE Bass Bar redemption form, please provide a photocopy of your original purchase receipt. Mailed forms must be post- marked by Mar 31, 2019. Download a PDF of the printed redemption form for mail-in redemption.
5. Mail offer to: 2018 Customer Orff Promotion Sales Program, 12020 Volunteer Blvd., Mt. Juliet, TN 37122
See full Terms & Conditions below.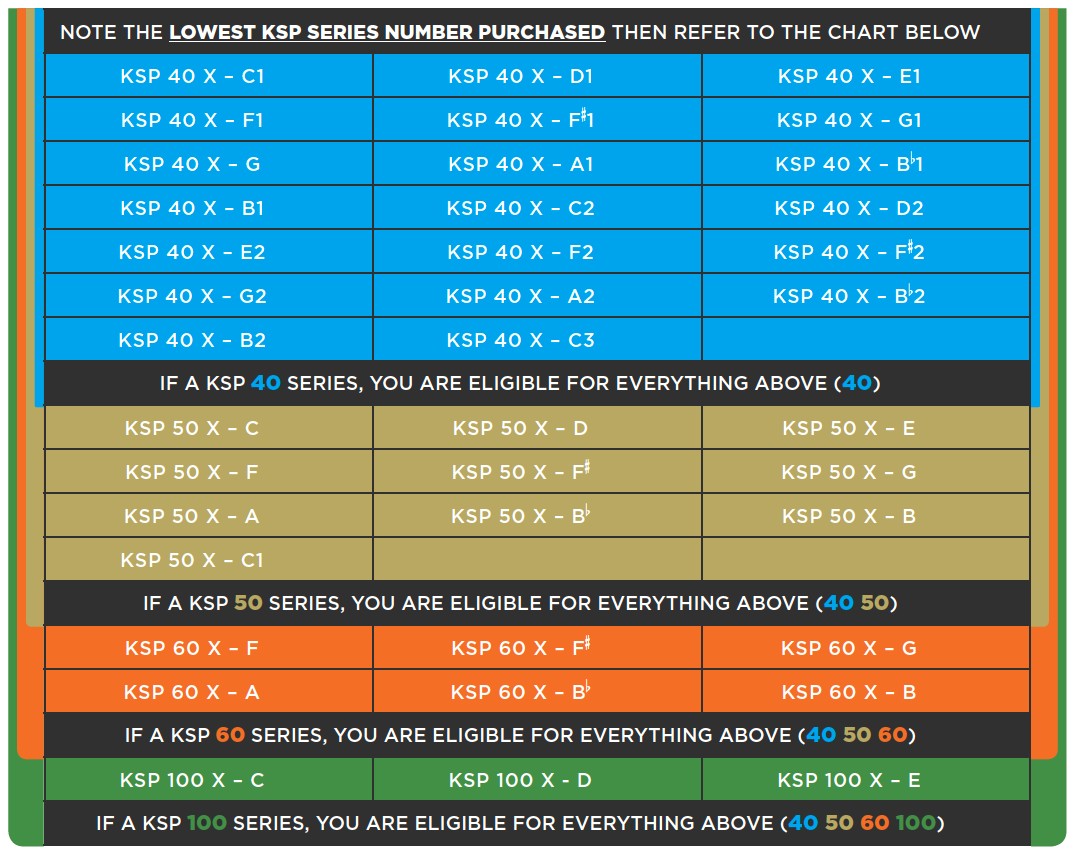 Offer begins September 1, 2018 and expires February 28, 2019. All offer requests must be postmarked by March 31, 2019 or submitted by 11:59 PM CST, March 31, 2019. This offer is valid only for qualifying instrument model sales processed through authorized SONOR Orff dealers in the United States of America. Limit one FREE GIFT per qualifying sale with no more than six FREE GIFTS total for all qualifying sales per name, address, and household. Allow 6-8 weeks for receipt of your FREE GIFT. Proof of sale must be provided from the authorized dealer including model number(s) thus qualifying product sold. Employees of KHS America and it's affiliates are not eligible. Not responsible for lost, late, damaged, misdirected, incomplete, illegible or postage due requests for mail. Void where prohibited, taxed or restricted. Reproduction, purchase, sale or trade of this certificate, proof of purchase, UPC codes or receipts is prohibited. Qualifying sales for this promotion include only the products described herein. Product substitutions, deletions, or additions are not allowed, regardless of information obtained from other sources. Sales through online auctions are not eligible. This offer is available only to consumers with mailing addresses in the United States of America. Sales made outside of the United States of America are not eligible. Applicant understands that the proceeds from this and any other promotions are subject to tax. Applicant understands that he/she will be issued IRS form 1099 by KHSA America if the combined, gross proceeds from this and all other promotions over the course of the calendar year, equal or exceed $600. By submitting this FREE GIFT application, applicant agrees to furnish KHS America, Inc. with his/her social security number or business tax ID number upon request. This offer is non-transferrable. Return of merchandise voids FREE GIFT offer. This offer is sponsored by KHS America, Inc. 12020 Volunteer Blvd., Mt. Juliet, TN 37122.