KHS America is excited to announce the innovative new Jupiter Join the Band! Wind Instrument Try-Out Kit.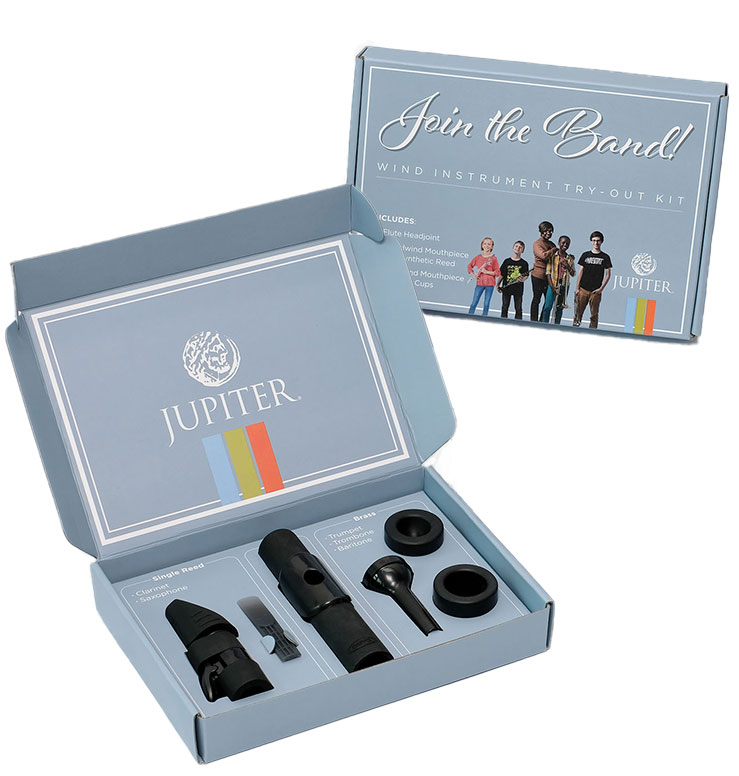 The Wind Instrument Try-Out Kit was designed to help introduce and guide students towards finding the instrument that is the best fit for them.  It includes mouthpieces similar to the ones found in a band classroom, but are not intended to replace the actual instrument mouthpieces.  They can easily be cleaned in the dishwasher or hot soapy water.
The Wind Instrument Try-Out Kit will Be Available from authorized retailers only.  Orders will be ready to fulfill starting in mid-May.
What's Included In The Kit:
What Educators Are Saying About This Product
"This is a game changer for music educators. The ability to assess a student's suitability for an instrument virtually, or in a class setting, it's ease of transport, and the simplified nature of the product are exactly what we need right now!"
"If there ever was a perfect time for a product like this, it is now!  A wonderful way to help recruit students in a safe, easy to sanitize, and productive way. Whether used in a virtual environment, or in person, it will greatly improve our ability to recruit students in the world we find ourselves!"
"I'm very excited for the opportunity to use this product. I like how easy they will be to clean and sanitize for the safety of reusing on multiple students when traveling to elementary schools for mouthpiece testing.  Packing and traveling to the schools or setting up for a testing event will be much easier."
Not A Member Of The KHS America Academic Alliance?