Many music departments are looking for new methods to build support, motivate students and
improve recruitment and retention. One educational and entertaining way is to perform an annual "Pops Concert." Carefully selected pops repertoire can provide appropriate learning opportunities for student musicians and allow them to make direct connections to popular music. The "lighter" music will give the student body a reason to rally behind the music program and the taxpayers an evening of sheer enjoyment. Pop Concerts also provide opportunities for creative uses of instrumentation and technology and more easily catch the eye of the press corps.
Repertoire for a Pops Concert can consist of television themes, movie soundtracks, Broadway shows, cartoon music, videogame music, dances, classical television commercial music, marches, jazz, rock or any music that can be associated with popular culture. Pops Concert repertoire may have different overarching goals than repertoire for the rest of the year, but it is still important to choose music that has educational value and benefits the ensemble. Common pops learning goals include focusing on a new style, transitions, different harmonic structures and/or challenging rhythms.
Pop Concerts provide opportunities to creatively integrate. Students could create a music video that is projected during the live performance of a song or use technology to project the words to a sing-a-long. Have students in costume enter the auditorium or perform in the group. Generate a light show or utilize stage props such as confetti cannons or fog machines. Include choreographed dances performed by the cheerleaders, dance team or color guard.
Many schools do not have the luxury of scheduling chamber ensembles as classes during the school day. The lure of pops music can motivate students to attend extra afterschool or study hall rehearsals to prepare a couple of chamber ensemble tunes. This might also be the time to debut non-traditional ensembles such as a bucket drum group. Pops music also lends itself well to be creative with the uses of the standard ensembles. The jazz band rhythm section could accompany the chorus, a small vocal group could perform with the jazz band, the band and orchestra could combine for a selection, or the concert band and/or orchestra could feature electric guitar, bass and drum set.
There are many creative ways to market Pop Concerts. One idea is to create a survey online using a free web site such as surveymonkey.com or google drive or create ballot boxes to have students vote on a "Student Choice Song." Then the student body has a vested interest in the concert especially if the concert is performed as a school-wide assembly. School-wide assemblies are a great way to build interest in the music program and many schools find this to be a positive experience for the performers as well as the students and teachers in the audience. If it is possible to schedule the concert during March, a Pops Concert also is a
fantastic way to celebrate Music In Our Schools Month.
Another way to build bridges to the community is to have a Senior Citizens Matinee Concert during the school day. Some schools even provide lunch, dessert and/or building tours adjacent to this type of event to maximize the value of the afternoon to a cross section of the of the tax payers that may not have entered the schools for decades. Pop Concerts are also a great opportunity to feature a guest conductor or a narrator from the community such as a politician, television personality or local icon.
Having an overall concert theme is an effective way to organize and market a Pops Concert. Themes can be general such as Music from the 1960s (or any decade), Rock Music, Television Music or Broadway, or specific such as Songs that Begin with the Letter "R" (or any letter), Music of the Beatles, "Blue" Music or Songs of Happiness. Once a theme is selected, consider a joint venture by having an art show in the lobby based on the same theme or invite the National Honor Society and/or Student Council dress in the theme and serve as ushers.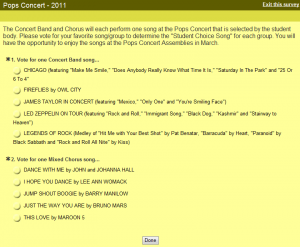 Last but not least, it is very important to take the time to write press releases prior to the concert and send them to the local newspapers. If the director cannot find the time to write to them, ask a student or parent. Press releases are an invaluable preview of the Pops Concert that will encourage many people to attend when they are aware of the variety of music that will be performed. They should be emailed to the newspapers at least two weeks in advance.
Pop Concerts are fun music education opportunities that can make a positive impact on the performers, the school and the community. Especially during challenging economic times, a creative and non-traditional approach such as Pop Concerts will help recruitment and retention, foster additional school and community support; create positive publicity, motivate students and most importantly create music education experiences that students will remember for a lifetime.
About the Author
TONIA ASEL KAUFMAN is the band director at Plymouth Whitemarsh High School in suburban Philadelphia and the Choral/Instrumental Coordinator in the Colonial School District, a 2012, 2013 and 2014 NAMM Best Community for Music Education and 2014 and 2015 Grammy Signature School Semi-finalist. She was awarded a Citation of Teaching Excellence from the Pennsylvania Music Educator Association and has been recognized as a Master Teacher by the Colonial School District. Under Kaufman's leadership, the PW Band Program has won 23 championships and is regionally acclaimed for being a highly creative band program. She has had groups perform at and has presented at the PA Music Educator Association State Conference. In addition to serving as high school band director, she has worked in a variety of roles including adjunct professor of music education, concert band guest conductor, jazz adjudicator, marching band consultant, show designer, drill designer and musical arranger and has taught a wide variety of music electives from elementary to high school. She also has held various leadership roles in the local band competition circuit. Kaufman has a Bachelor of Science degree in Music Education and Music Performance from Slippery Rock University, a Master of Education degree in Educational Administration from Temple University and National Board Certification in EA/YA Music.
The content of this Blog article or Banded Story is the intellectual property of the author(s) and cannot be duplicated without the permission of KHS America and/or the author(s). Standard copyright rules apply.