Many directors are facing an uphill battle when it comes to returning to marching band camps. Directors Tony Cox, Sherie Grossman, and Weston Demonbreun, of Mt. Juliet High School, in Mt. Juliet, TN share some of the successes that they have had with their administration and parents, and their action plan they are currently using to start summer camps.
WORKING WITH ADMINISTRATION
We started working with our Principal, Athletic Director, parents, and band staff about one month prior to our first rehearsal.  We secured dates, times, and rehearsals plans for how to keep the students safe while entering campus, rehearsing inside/outside, and exiting campus after rehearsal.  About one week prior to our first rehearsal the county distributed a set of guidelines for athletic and band-related activities during the month of June.  Once that was done we just made sure we were following those guidelines.  Some of these guidelines/protocols can be found below.  We also placed additional video explanations on our MJ Band of Gold YouTube channel and our website, mjbandofgold.com.
PARENTAL PERMISSION
Our county guidelines clearly stated that all school activities in the month of June were to be "optional"  so we did not require a parental sign-off for this reason.  Coaches/directors are not allowed to keep students from participating if they do not attend in June. So, if students attend, it is with parental permission. We are also required to give virtual assignments, if applicable, for students that are not able to attend.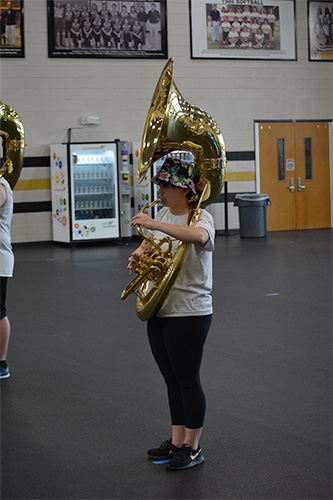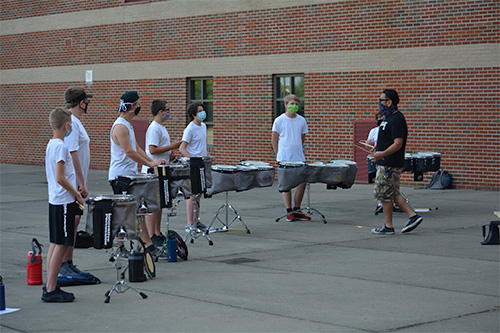 Mt. Juliet High School's 2020 Marching Band Rehearsals and Procedures
Each student and teacher should bring and wear a mask.
Arrival and Pick Up: 
Pre-entry checks to be conducted at designated drop-off areas. All students are to remain in their vehicle until screening has been completed and they are cleared to enter practice. Once cleared, students may park and go to the designated practice area – if there are any questions about pre-entry check responses, please follow directions for more detailed screening. 
If there are multiple students in the same vehicle, all students must pass the pre-entry screening before ANY student will be allowed to exit the vehicle.
Pre-entry checks will include screening questions regarding COVID-19 exposure, recent travel, and health status. Specifically, if they have a fever, dry cough, sore throat, headache, chills, body aches, nausea/vomiting/diarrhea, loss of taste or smell, shortness of breath, or nasal or sinus congestion out of the norm.
Temperatures will be taken using a touchless thermometer. If a student has a temperature over 100.4 they should not come to band; if a student arrives or develops a temperature they will be sent home and referred to medical care, the Wilson County School protocol will be followed based on followup with the student.
Student backpacks, large water bottles, and instruments/cases will be stored outside if possible (see map), and if not, a designated area inside by section which will be communicated. 
Pick up – parents remain in their vehicle in/near the designated area.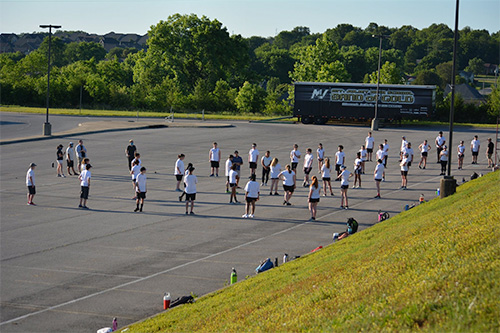 Practice Plans:
Students will be in identified sections with 20 feet between each group of 25 or less people.  Students practice areas will be identified and communicated and will have clear instructions regarding maintaining a minimum of 6 feet of social distancing or more.  Instructors/staff/volunteer parents will wear masks and follow precaution guidelines. Students will wear masks unless directed otherwise by staff for playing of wind instruments. Parent volunteers will primarily support pre-entry checks or ancillary staff needs as indicated by directors or key personnel and will be compliant with social distancing. If on campus, parents should remain in vehicles for pick up or drop off only unless registered as a volunteer.
Break Times/Restroom

Break times/ Restrooms will be staggered by sections.
Soap dispensers will be placed in restrooms for hand-washing during band practices.
Staff will reinforce maintaining social distance during breaks.
Parents are encouraged to talk with and indicate to students the importance of these guidelines.  The ability to make music and re-enter into band programming requires being attentive to these guidelines.

Parent volunteers need to be registered and follow all safety precautions while on campus.

Parent volunteers will be used during practices to help with traffic, set up, clean up, and staff/student support as needed.  
One parent per section during practice with a board officer available, if possible to help staff as needed, maintain cleaning stations/cleaning/or other needs. This is anticipated for the first five to seven practices and once a routine is established will be adjusted based on need.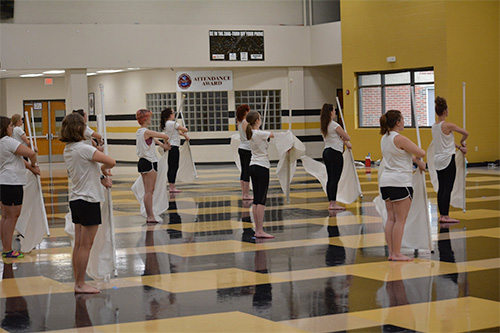 Cleaning/Disinfecting Information:
Supply stations will include hand sanitizer, cleaning products, and/or disinfecting solution to sanitize frequently touched surfaces. (examples include, but are not limited to, doors, handles, tables, and equipment)
Referral Protocol:
Any staff or student that is found to have a high temperature or COVID-19 symptoms will not be admitted to the activity and will be referred to a health care provider. All referrals will be reported to the school principal and athletic director.
Any staff or student that is referred to a health care provider due to pre-entry checks or becoming ill during rehearsal will need signed documentation from a health care provider indicating a negative COVID-19 test or the provider does not feel that the staff/student is a risk to others. The school principal and athletic director will be notified of the results from the health care provider referrals.
If a group member tests positive for COVID-19, the parents of all members of the group will be notified. The school principal and athletic director will be notified of the positive test and the identity of the group members impacted.
Decisions regarding the continuation of rehearsal activities will be at the direction of the school principal and athletic director following Wilson County guidelines.
How is your program planning to return to school within the pandemic guidelines?